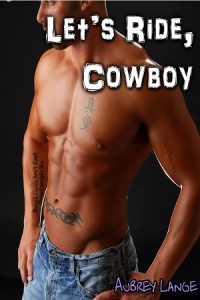 Here's an excerpt from my latest short story Let's Ride, Cowboy:
You see, I missed the farm, and I especially missed my horses. After I mentioned this to a friend, she told me about a nearby horse ranch that had some really nice trails. She offered to take me out there as it was her favorite place to go when she was feeling ignored by her husband. I didn't realize exactly what she meant by this until we got out there.
"Shelly, thanks so much for taking me out to this ranch. It's so beautiful out here. I really needed this."
"Grace, you are going to love it out here. You're going to feel like a new woman." Shelly had a dirty smile and pushed up her shades as we walked into the barn. She motioned with her eyes for me to look over in the direction of the riding ring. "Check out the ranch hand. That's Shane."
"Oh, my…" I couldn't finish my sentence. He was so gorgeous, and it looked like he had stepped out a GQ magazine. Every muscle was defined and tan, and he had no shirt on. "Um, does he always go around without a shirt?" I couldn't take my eyes off of him, and I didn't realize I was biting my lip.
"Always, it's one hell of a view, isn't it." Shelly elbowed me.
"Yeah, I guess I see why you come here."
We both burst out laughing which got his attention. He waved at Shelly, and she coyly returned the greeting by blowing a kiss.
"What the hell? Do you two have a thing?" I was kind of shocked because Shelly was also married.
"Oh yeah, but don't worry, he's totally free if you want to give him a go."
"Shel! What do you mean? I'm married. You're married. What's going on here?"
"Well, this may be a little heavy to spring on you without any martinis, but Jim and I have an open marriage. Things were just not working anymore between us, and we decided to try something bold. I started taking lessons, tennis, golf, horseback riding, and now Shane riding. I enjoy the latter the most." Shelly cracked up, and I noticed that Shane was on his way over.
"Hello ladies, what brings you by today." Shane was even better looking close up, if that was possible. He had dark hair, and his face was chiseled by hard work in the sun. His eyes were ice blue, and they seemed to say "I want to fuck you and then call you later for another round" without even saying a word. I had only heard him say hello, but I felt like I was already in love.
"Hi Shane, you are looking good today." Shelly gave him a kiss on the cheek. "Let me introduce my friend Grace. She's been hanging around the house too much, and I decided she needed to get out and try something new."
"Hi Grace, it's nice to see you. Well, we definitely have 'new' here." Shane reached out his hand to shake mine.
"Hi, it's nice to meet you." I felt like I could barely speak. I shook his hand and melted a little bit inside.
"Have you ever ridden a horse before?" Shane was still holding my hand gently.
"She has but I think you should ride with her this first time to ensure it goes smoothly," Shel answered for me before I could speak.
"I would love to do that. I'll get us some horses ready and meet you by the entrance. Are you coming along, Shelly?"
"Oh, I think I'll take a ride up the hill alone. I need some solo reflection time today."
"OK, are you good to get saddled up?"
"Oh yes, you know me. Go take care of Grace," Shelly waved and headed off like she owned the place.
"Grace, would you rather join me, and I'll show you around as I prepare the horses." Shane had never let my hand go, and my heart was still racing.
"Yes, I would enjoy that," I blushed after I realized what I said. What am I thinking? I am shamelessly drooling over this man. God, I need him inside me. Stop it, I can't think like this. If Perry would treat me like a woman again, then
I wouldn't even give him a second look. God, I need to stop over thinking this.
"Grace, I hope I'm not overstepping here, but you seem to have a lot on your mind," Shane tilted his head and looked at me with concern as he spoke softly.
"Wow, does therapy come free with the ride? You're pretty perceptive, but honestly, I came here to take a break and relax." I smiled but felt a little awkward that he could see through me so quickly.
"That sounds like a good idea, let's get you out on the trail and your troubles will melt away." Shane put his hand on my back and walked me over to the horses.
I watched him put the saddles on our horses, and I thought I was about to climax right there. His muscles seemed to mesmerize me as there was just enough sweat to highlight his tan and show he had been working that day, but not too much to make me feel he was dirty. I watched them contract and ripple as he moved and he quickly had everything ready while being gentle with the horses at the same time. Oh god, I needed whatever was in his pants to slam into me hard right now. Seriously, I have to stop.