The Best Little Neighborhood In Texas:  The Frat Party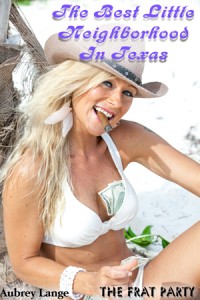 Here is an excerpt from my recent ebook The Best Little Neighborhood In Texas: The Frat Party:
Our escort business was off to a roaring start. We completed our first major event, and I was dying to know how everyone felt about it. We had entertained a bunch of Texas businessmen and went up to their hotel room for some crazy group sex. Since this was our first time, I invited the gang over for a cookout and some margaritas to get a feel for how everyone thought it went.
Dave came by early so he could get a little action in before everyone else showed up. I think he also wanted an uncensored description of how it went down since he had to stand just outside the hotel room as our security. Since we have been doing it on the side, I wondered if he was going to get possessive or if he could handle the fact that I was sleeping with multiple people other than him.
"So did you have fun with those old cowboys the other night?" Dave moved behind me and put his hands on my hips while I cut up some veggies.
"Well, yeah, it was pretty good. They weren't too old, and I don't think they were actually cowboys. They just had heavy accents." I playfully pushed my butt up against his growing hard on in his pants.
"Mmm, think we got enough time for a quickie before the rest of them get here?" Dave started pulling up my skirt before I could answer.
"Dave, I need to get this ready." I protested a little bit, but I was just as horny, so I bent over a little as he moved my skirt over my ass.
"Oh yeah, you can't resist me and I can't resist this ass of yours." Dave unzipped his pants and slid his dick in my already wet pussy. "Damn, I can't believe how wet you are."
"Are you kidding? You've been playing with my ass and rubbing your dick on me for half an hour. Oh god, I needed this." I couldn't talk anymore as the feeling of his cock sliding in and out of me was making my eyes roll back in my head.
Dave held my hair and pulled my head back as he picked up the pace. He was really slamming his hard cock into me now, and I couldn't help but let out a few cries of delight. Suddenly, we heard the doorbell ring, and it threw us both off our game.
"Fuck, someone's early." I stood up and tried to collect myself.
"Damn it, I was getting close. To be continued, OK?" Dave seemed a little pissed, but I knew he would cheer up once we got social.
"Definitely, we'll find some time to sneak one in." I wandered off to get the door giggling along the way.
"Hey, hope I'm not too early." Gilly had a big smile on her face as I opened the door.
"No, not at all. Dave is already here too. Come on in."
"Oh great, are we in the kitchen?" Gilly handed me a bottle of tequila.
"Yep, still cutting up some veggies for the grill. Wow, you didn't have to bring this. Thanks, it's the good stuff, isn't it."
"Well after the bonus we got I think I can afford it." Gilly put her hand up for a high-five which I returned. We burst out laughing at the thought of the extra ten thousand dollars we got from the businessmen.
"So I guess you were pretty happy about the whole affair?" I cocked my head to the side waiting for her to respond.
"Are you kidding Hannah? I already paid off one of my credit cards. If we keep pulling in money like this, I'll quit my other job and just do this full time." Gilly did a little dance around the kitchen, and Dave joined her. They were quite a sight as they shimmied together in such joy.
"Well good, I'm glad you are so happy. That's why I wanted to have everyone over, sort of a post-game review, to see where everyone was on the whole thing." I finished up the veggies and took the meat out of the fridge to put on the grill.
"I'm definitely happy and I want more. When is our next gig?" Gilly rubbed her fingers together as if she was looking for more money.