The Best Little Neighborhood In Texas: The Big Idea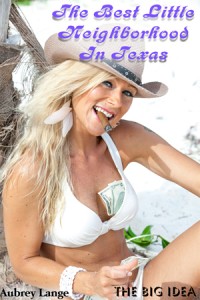 Here's an excerpt from The Best Little Neighborhood In Texas: The Big Idea
I live in the best place ever. It's a sleepy little beach community in Galveston, TX. Our streets are lined with colorful houses, and all the neighbors know each other, some much more than others. You see, a few of us have decided to go into business together. We provide services to the locals and tourists that are on the fringe of society, something you can't just go to the local store and order. We provide companionship, friendship, and a little bit of love to our fellow humans and that has made life interesting, to say the least.
Our plan was cooked up at one of my infamous parties. Most of my guests had left, but my core friends were still hanging out talking in the backyard by the fire pit. We had already consumed many drinks, and that seemed to lower everyone's inhibitions and get the ideas flowing. I think Gilly was the first one to propose the new venture.
"You know, I'm tired of working my ass off all day cutting hair and still not make enough in tips to pay my mortgage. I have to work nights at Kroger too if I want to keep my house. I bet if I gave private cuts in my bikini at home then my tips would be a hell of a lot better." Gilly belly laughed as she grabbed another beer out of the cooler. "That's what I should do."
"Why don't you? Then you wouldn't have to pay for space up at the shop, and like you say, you'd make much better tips." I thought she had a good idea, after all.
"Well, Hannah, maybe I will." Gilly was crinkling up her forehead as she mulled it over. "But, I don't know about having men in my home. How would I stay safe?"
"Yeah, you need a pimp." I was pulling Gilly's leg, but she took me seriously.
"I do. Who could I get to hang out in my house while I entertain my clients?" Gilly perked up and looked around our group.
"Are you joking? You must be joking." Dave chimed in and laughed at the thought of Gilly servicing men in her home.
"Why not? I mean I would just trim their hair while walking around in my little bikini. I'd press up against them and give them a thrill. Who knows what might happen? Then I could charge a lot more for my services, and I could finally stop worrying about my bills." Gilly threw up her hands as if she had it all planned out and there was nothing to worry about.
"Well, you are single. You should be able to do what you want with whoever you want." I wanted to support Gilly in case the others didn't.
"Thank you, Hannah." Gilly raised her beer to give cheers.
"Well, if you really are serious, then doesn't the pimp get a cut?" Dave winked at me and pointed his beer at Gilly as if he made the best point ever.
"Can we stop calling it a 'pimp'? It's really a bodyguard, and sure, he would get paid too." Gilly said matter-of-factly. "Why, you want the job?"
"For just sitting there while you 'take a little off the top', sure thing." Dave busted out laughing along with everyone else.
"Gilly, as long as you're doing that, why not rent out some of your other bedrooms and just start a brothel?" Annie chimed in after assuming this was all hypothetical till now.
"Damn, why not?" Gilly giggled. "I mean girls are doing this right now, don't you watch Dr. Phil. They set up websites for this kind of stuff. Escorts, girlfriend experience, geez, how many senators have to get caught doing this before you realize that everyone does it and we're the only ones playing by the rules."
"You're right about that, and they always make their poor wives stand up there with them when they come clean. You can tell how much they don't want to be there by the expression on their faces." Annie sounded as if she really understood their pain.
"Yeah, they look like they're having a pap smear and a colonoscopy at the same time." I chimed in and put another log on the fire.
"Anyway, why should everyone else get away with this and we barely make ends meet. We're all single. Why don't we set up a website for 'guided tours' around Galveston? We could put up a bunch of sexy shots and charge a lot. We could just give it a try at first and see if anything comes of it." Gilly was now encouraging all of us to join her venture.
"Actually, I could set up the site fairly easily for you." Paul finally spoke up after monitoring the conversation.
"Wait, are we actually suggesting that all of us do this?" Annie seemed surprised that we were serious.
"I think so." I sat on the edge of my seat as I looked around to see everyone else's reaction. "I think Gilly makes some good points, and I wouldn't mind making some serious cash. I need to finish paying off my college loans, which seems like I've been doing for years. I also need a new car, I mean, the list goes on."