Doctor's Orders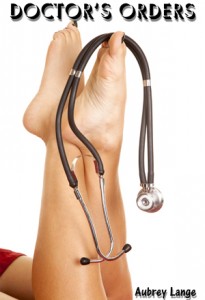 Here is an excerpt from my recent short story, Doctor's Orders.
I had never done anything like this, and I had never fantasized about it before, but I found myself getting excited. Natalie came in with black straps. She took my robe off, and I stood there naked before them. Natalie tied my hands behind me with one of the straps, and then pushed a button on the side of the wall. I hook came down, and she pulled my arms up and placed them on the hook. This put me in such an awkward position. I had to bend way over so my arms could be up in the air.
"OK, Lindsey, we're going to get started. This first round is to make you understand your place here. Ready?" The doctor stood behind me.
"I guess so." I hung by my arms and I turned to see the doctor checking out my ass. He had a paddle in his hands, and I realized it was for me.Whack! "You're a spoiled little brat that's never worked a day in her life, aren't you?" The doctor smacked my ass with the paddle and then Natalie rubbed my ass checks immediately afterward.
"Uhh, Yes, Master." I felt the sting of the paddle and let out a groan. I was so surprised at how good it felt, especially when Natalie lightly rubbed my ass. It was like a battle between pain and pleasure. It was confusing but wonderful at the same time.
Whack! Whack! "You're an entitled little bitch that expects the world to revolve around her." The doctor hit me extra hard this time. Natalie followed up by rubbing my ass cheek and tweaking my nipple.
"Oooow, yes, Master." I actually felt a twinge in my lady bits when Natalie played with my nipple. I couldn't help but laugh when I thought about this being the most bizarre doctor's appointment I had ever been to.
"Oh you think that's funny?" The doctor pulled my hair back.
"No, Master."
"I'll show you something funny." The doctor unzipped his pants and pulled out his hard cock. It was huge and beautiful. He slapped me across the face with it a few times. "That's funny, isn't it?"
"No, Master."
"I said that it was funny, wasn't it?" He slapped it across my face again.
"Yes, Master, it's funny." I smiled at him.
"No it's not. It's big and hard, and it's going to punish you." He held it right in front of my mouth. "Do you want it to punish you?"
"Yes, Master."
"Beg me to punish you. Beg me to allow you to lick it."
"Please let me lick your hard cock." I was surprised at how much I really liked this. I was really getting hot and wanted it to last forever.
"Hmm, sounds like you're starting to catch on, but I'm not hearing enough begging. Give it one more try."
"Please, master, I need your big hard cock down my throat right now." I opened my mouth and stuck out my tongue to show how ready I was.
"Now that's much better. Nurse, please pull her hair back to ensure it doesn't get in my way," the doctor ordered.
"Yes, doctor, whatever you say." Natalie grabbed my hair and jerked my head back. The move sent a chill through my body. I wanted him inside my mouth so bad now I could barely stand it.
"OK, get ready for me slave."
The doctor touched my tongue with the tip of his cock, and I tried to take it inside my mouth. He pulled away, and I let out a little whimper.
"You really want it now, don't you."
"Yes, please." I let out a little moan with his dick so close, yet still out of reach.