The Dare Club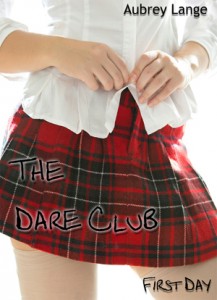 Here is an excerpt from my recent short story, The Dare Club.
"Well, let's get a look at the two of you."  Rick took my arm and moved me beside Angie.  "Very nice.  So do you girls talk?"  Rick laughed.
"Yes, I'm Ella.  This is Angie."  I smiled, but I was still really nervous.
"Pretty names."  Rick walked around us, looking up and down our bodies.  He stopped behind me.  "Ella, you ready to lose your virginity tonight?"
"Yes," I whispered.
Rick bent me over and rubbed my ass.  I tensed up as his hand slid down between my legs.
"Mmm, you feel like you're already wet.  I like you, Ella.  You're just a dirty girl that needs to be set free.  I'll take you."  He took my hand and guided me over to one of the beds.  We stood face to face.  "Now, take my clothes off."
I started to unbutton his shirt, and I noticed that Jim was taking Angie to the other bed to begin as well.  I got the last button undone and removed his shirt from his broad shoulders.  He was so muscular, and I was immediately turned on.  I hadn't really been around boys much growing up, and now I had a full fledged man in front of me.  I was so aroused I could barely stand it.
I unzipped his pants and pulled them down.  I also pulled off his underwear to reveal his hard cock right in front of my face.  I hadn't seen one before, and I was mesmerized.  I was just about to get up, and Rick put his hand on my shoulder.
"Take me in your mouth, Ella."
I looked up at him, and I must have looked scared.
"Is my dick too big for you sweet Ella?"
"No, I've just never done it before."
"Just try it out, you'll like it."