The Dare Club:  The Roommates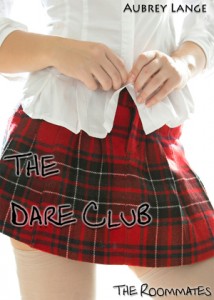 Here is an excerpt available from The Dare Club:  The Roommates.  The third book available in The Dare Club Series

Since I had some unexpected one-on-one time with Mindy, I thought I'd try to talk up my roommate a little bit so she would make it into the sorority too. I only hoped Mindy wouldn't take my attempt the wrong way and hold it against either one of us.
"Thanks again for taking me shopping. I really appreciate it, and I know Jeff will too."
"Well, we can't have you going on your date with such an eligible bachelor in your period panties, now can we. You know he comes from a really good family. You should do whatever he wants you to in order to make him happy." Mindy shot me a glance as she drove us to the galleria.
"Oh, I plan on making him very happy. I got a chance to see what he was packing in the shower. I can't wait to get another look and make it mine." I giggled and clapped my hands in excitement.
"You're too funny, I remember when I used to be that giddy. Have fun girl, based on what you've done so far I think you'll do just fine."
"So I'm curious, how do you think the rest of the girls are doing? Anyone else on your radar or is that too much to ask?" I braced myself in case she decided I was overstepping my friendship.
"Hmm, well, I guess if you don't say anything we can gossip a little bit. We're planning a little prank to get even with that bitch that made a scene at the last challenge. Maybe I'll ask you to help on that one later. As for the other girls, none have shown the initiative that you have." Mindy smiled at me and then changed the channel on the radio.
"Oh, well, it could be they're just shy. I know Angie has been really into the dares, but she doesn't talk about it much."
"Which one is Angie, is that your roommate?"
"Yes, she went with me to the motel room to lose our virginity. We talk about the dares to each other, but I think she's shy in front of the other girls." I hoped Mindy would think she was into the activities, but was keeping a low profile about it.
"So you consider her a true sister, someone who would do anything for you?" Mindy cocked her head to look at me.
"Definitely, we share everything and I'm sure she would be good for the club." I realized I really put myself out there now. Angie better appreciate what I just did and not let me down.
"OK, well if you like her then I do too."
We arrived at the store and had a lot of fun shopping. Mindy picked out a really hot black and red lace bra and panty set for me that I couldn't wait to show Jeff. Once we finished shopping, we grabbed some lattes and then headed back to campus. Angie was hanging out in our dorm room when I made it back, and I was so excited to tell her the progress I made on her behalf.
"Hey girl, I just spent the morning with Mindy shopping. Guess who we talked about?" I put my bags down on my bed and then sat down on Angie's.
"I don't know, you and your golden ticket maybe." Angie seemed a bit blue, but she would be happy soon.
"Not at all, I got a chance to talk you up and she said that any true sister of mine is a sister of hers. I think that means you're in!"
"Seriously?" Angie's whole demeanor changed, she sat up straight and her eyes brightened up.
"Yes, so don't screw this up. I put myself on the line for you. Now if you do something wrong, it reflects on me too."
"I know, I got it. Oh my god, thank you! I can't believe it. I thought I had screwed my chances from that first night, so that's why I was in the dumps about it. Now I have a second chance, and I promise I'll do anything she asks." Angie gave me a hug, and I could tell she was so genuinely happy.
"Great, I think it's going to work out. Now, I need to get ready for my date. I'm so excited to see Jeff tonight and pick up where we left off in the showers."
"Oh Ella, you're so bad." Angie laughed and went back to reading her book.
"I know, but I'm working on being good at being bad." I couldn't help but give her a dirty little smile and a wink back.
I took a shower and primped for my date. I put on my new lingerie, and I felt so sexy and ready for anything. Jeff rang the room, and he was downstairs waiting to pick me up. I practically bounced down the stairs and jumped in his arms.
"Hi Jeff, it's good to see you again."
"Hi Ella, it's really excellent to see you. I've been thinking about you ever since we met in the showers, and I can't get you out of my mind." Jeff gave me a hug, and I could swear I felt it move against my leg.
"Well then, we better get out of the lobby before we give everyone a show." I giggled and gave Jeff a peck.
Jeff and I left the dorm and we went to see a movie. He was so sweet, he opened doors for me and really treated me special. We got to the movie theater early, so we had a little chat while waiting for the movie to come on.
"Listen, I know you're pledging the Tri-Pis, and they ask you to do some pretty crazy stuff. I'm OK with you doing that for now, but once you join and become my girl, then you're just with me, OK?" Jeff took my hand and looked into my eyes while he waited for my answer.
"Definitely, so this means we're exclusive?" I was so excited I could barely stand it.
"That's right, once you get into the sorority, you're all mine." Jeff leaned in and gave me a deep kiss.
The movie started, and I was just overwhelmed at how lucky I was to get such a great boyfriend this early in the school year. I knew I was right about joining this sorority; it was going to bring me everything I wanted and more.
I wasn't really watching the movie, but instead daydreaming about Jeff and having sex with him. Maybe I was giving off some kind of vibe because he took my hand and put it on his crotch. His dick was so hard, and I started rubbing it through his pants. God I wanted it so bad; I felt a yearning in my core.
Jeff unzipped his pants and pulled his hard cock out. He held my hand around it and helped me give him a hand job. Soon he just pushed back in his seat and leaned his head back, and I worked on it alone. I could tell he really enjoyed how my hand moved up and down massaging his dick.