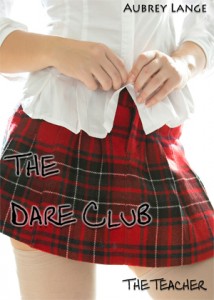 Here is an excerpt from The Dare Club:  The Teacher.  This is the second book in The Dare Club Series

Well, snagging Professor Roberts was a lot easier than I thought. Fortunately for me, he also turned out to be a pretty fun lover as well. As far as how it went down, well here's exactly what happened minute by delicious minute.
I rolled up my skirt at the waistline a little bit before I went to his office, and I put on some lacy panties that I knew any man would love if I ever got a chance to show them. I called his office and begged to see him because I was having problems with his recent lecture. He remembered me and he made room for me in his schedule later the same day. I was surprised he was going to see me so soon.
I walked into his office and as I sat down I let some of my books fall out of my grip. I stood back up and turned my ass to him and bent over to pick them up. I knew from experimenting in my room that he should be able to see just a peek of my panties. I thought that should get his imagination moving in the right direction.
"Professor Roberts, thank you so much for seeing me. I can't tell you how grateful I am," I sat up straight and poked my chest out as I talked.
"Ella, I'm happy to help. Now what kind of assistance were you looking for?" Professor Roberts took off his glasses and was now smiling rather sheepishly. I was certain that he caught my little peep show.
"Well, I just didn't understand the last lecture that well. I was looking for a little private tutoring if that's possible." I traced my neckline with my finger and dipped into my cleavage just a bit.
"I could put you in touch with some seniors that offer their services for some extra cash. I'm sure we can find something for you." He wasn't making eye contact anymore, instead he was watching as I played with the buttons on my shirt.
"Couldn't you teach me a few things? I'd rather learn from the best." I let my finger fall on my neckline and a button gave way under the pressure.
"Um, I don't normally do that kind of thing, but you show a lot of potential." He rubbed his crotch and licked his lips.
"Why don't you come over here and I can show you something," He stuttered a bit and then cleared his throat.
I stood up and walked over to his side of the desk. I nestled up real close to him and looked deeply into his eyes. He was actually quite attractive for an older man. He had dark hair and stark blue eyes, the kind that make you instantly fall in love. He always had a little scruff of a beard, and I love that look on a man.
"What would you like to show me Professor Roberts?" I pulled another button open on my blouse. I knew there was no turning back now, and he could tell my intentions were clear.
"Well, it's actually down here in my lap." Professor Roberts was still seated, and he turned his chair towards me so it was obvious what he wanted me to do.
I got down on my knees and unzipped his pants. I smiled at him as I pulled his hard cock out. I gave it a big lick as if it was the best ice cream cone I'd ever seen and then I took it all the way down my throat.