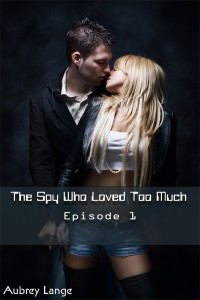 Here's an excerpt from my latest short story The Spy Who Loved Too Much – Episode 1 (The Complete Series is Available):
My name is Katrina Clayton, and I'm a spy for the CIA. No, that's not a pickup line. After all, I'm not a man going through a mid-life crisis, who has to resort to cheesy tactics that only work on the naive. Actually, I'm quite pleasing to the eye. I have long, strawberry blond hair, with a natural soft curl. I'm fit with an hourglass shaped body, which I've been told is ideal for this kind of work.
I didn't get my start like most spies, it's not like I was in the special forces. I was a struggling freelance journalist that happened to be in the right place, or wrong place depending on your outlook. I was on assignment in Ukraine because I knew both Ukrainian and Russian. I'm not super smart or anything like that, I'm just the daughter of a Ukrainian woman that married an American man.
It didn't come completely out of the blue. I had been covering the problem with sex trafficking that is rampant in the country. The recruiters target rural areas, and either use fraud or debt bondage to coerce the girls into the racket. Due to my investigation, I came into contact with the Security Service of Ukraine or the SBU on multiple occasions. This was the special purpose law enforcement agency of Ukraine, mostly dealing in counterintelligence, but also monitoring the human trafficking as it often crossed over. This was either because of the money generated or the need to smuggle illegal contraband out of the country, which might end up on or inside, the woman herself.
I was approached by my handler, Aleksander Rusak. He was a US born Ukrainian, now working back inside the country. Aleksander was a desk type, medium build around 5'10" with light brown hair. He wore dark rimmed glasses and had a beard, which on him seemed like a struggle between rugged or hipster. Either way, I still found him fairly attractive, and mistook our first meeting as a possible hook up.
I was out at D'lux in Kiev, the most popular night club in town. Everyone there is out to have a good time, party, and go home with whoever looks good for the evening, and I was no exception. Aleksander approached me and said he wanted to discuss some business, so of course I thought it was the business of getting into my pants.
"Are you Katrina?" Aleksander came up from behind me and spoke directly into my ear in order to be heard over the pumping electronic music.
"I am, but you can call me Kat." I turned around to face him, and gave him a once over.
"I need to discuss something with you. Will you come with me?" He put his hand on my arm.
"Down to business so quickly, don't I get a drink first?" I teasingly put my hand on his chest and looked into his eyes with a coy smile.
"It's business that I'd like to discuss, but if you need a drink, I can buy you one. What would you like to drink?" He went over to the bar dragging me behind him.
"I'll take another bourbon and coke." I raised my glass to the bartender who knew me well. He always took good care of me and made me strong drinks.
"I'll take a Stella." Aleksander put down some money and looked back at me. "We'll go to the terrace, it will be easier to talk there."
"OK, I can't wait to hear this business of yours." His arm was on the bar, so I lightly traced my finger down it while smiling at him. I already had a few drinks in me, so I was feeling no pain.
The drinks came and we moved outside, it was a bit cool, but not unbearably so. Aleksander leaned in, and I thought he was going to kiss me, instead he just started talking in a low voice.
"Katrina, we need your assistance with a few jobs."
"Again, call me Kat, and who is 'we'?" I looked at him with a cocked eyebrow.
"Right, Kat. The U.S. Government needs you. We believe your connections, and your skills, are perfect for a few assignments here in the country. Would you be willing to help?" Aleksander stood so close I felt his breath on my cheek.
"What exactly are we talking about? I would need to know the details before I just sign up for something. Also, can I write about it? I could keep my sources anonymous." My mind was starting to swirl with what he was proposing, and if I could make it work for me.
"Not while you're working for us. Kat, this kind of work is serious and could put you in danger. Keeping this out of the news is good for you, as it is for us." Aleksander put his hand on my shoulder, and I could see the concern in his eyes.
"You still haven't told me what kind of work you want me to do. I don't have to kill anyone, do I?" I laughed at the absurdity of what I was saying.
"Let's hope it doesn't come to that." Aleksander was not laughing at all.
"Seriously? So, this is real cloak and dagger shit? Are you for real? Did someone talk you into pranking me?" I looked for anything to tell me he was kidding, the beginning of a smirk, or the urge to laugh, it wasn't there.
"Kat, this is quite serious. Think it over, if you're not completely freaked, then come for a full briefing. You won't come into headquarters since we need to keep your involvement secret. I'll text you the location and time."
"Yeah, I probably will do it, but I wouldn't mind sleeping on it. I guess you need my number."
"We already have it."
"Oh, I suppose you would. Say, do you want to help me sleep on it tonight?" I thought I might as well give it one more try.
"Kat, I would be your handler, which means we need to keep a professional working relationship. Are we going to have a problem?" He looked at me with a smile, and to me, that meant there was still a possibility.
"No problem at all, what are those working hours, by the way? I'd like to know when I'm allowed to hit on you?" I laughed and thought I could really have fun with this. I could tell he found me attractive, but to know he couldn't act on it, well I could just tease the hell out of him.
"Very funny Kat, we will keep it professional all hours of the day. Agreed?" Aleksander gave me a stern look, but with a sly smile.
"Of course, completely professional. I wouldn't think of acting any other way." I winked and started walking towards the bar, but I stopped for a second, turned halfway and said over my shoulder, "I'll look forward to your text." I started walking again, and then waved backward knowing he was watching my ass sway as I left the terrace. I so had him around my finger.