Bigfoot Invaded My Honeymoon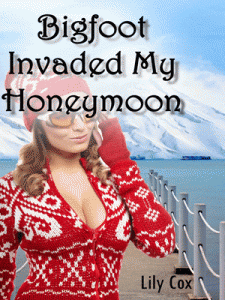 Here is an excerpt from my latest release, Bigfoot Invaded My Honeymoon:
"Hey, you wanna smoke a joint before we get in the tub?" Zack put the dishes in the sink and then started rubbing my shoulders.
"God, yes, that would so hit the spot right now."
We decided to step out on the patio since our cabin was no smoking allowed. It was so cold outside, but it was really refreshing for a few minutes because we had the heat up so high. We could see our breath, and it reminded me when I was a little kid and I pretended to smoke while waiting for the bus on cold mornings. Why we thought smoking was so cool, I don't know, but it made me laugh.
"What's so funny?" Zack lit the joint and passed it to me.
"Oh, I was just thinking about what a spaz I used to be when I was a kid."
"I bet you were the cutest little girl. Besides, you couldn't come close to me. I was…"
We both heard something moving in the woods and stopped to look. After a few seconds and a few drags off the joint, I finally broke the silence.
"I think we better get back in before we meet the bear that smelled our pizza delivery," I whispered as quietly as possible.
"I think you're right," Zack giggled as he opened he sliding glass door to let me in.
I loved it when Zack got high and giggled like a little girl. We ran back to the master bedroom and started the tub. I got us a couple of beers from the fridge, and Zack jumped in waiting for me to join him. I stripped down while Zack watched me. His eyes grew huge, and I looked at him a bit confused. I didn't realize what was coming up from behind me. I guess Zack didn't lock the sliding glass door behind us, and it just came in after us. I suppose the only way to say it is to just come out with it. Bigfoot had snuck in our cabin and was now standing right behind me.
Zack started to get up, and Bigfoot let out a loud grunt. I was terrified by the noise and motioned for Zack to stay where he was. Slowly, I turned around to face Bigfoot in all my naked glory. I had no idea what to do, but I thought I would try a calm, soothing approach.
"Hey there, big guy, nobody needs to get hurt here," I said in the most gentle voice I could come up with even though I had no clue what I was doing. "There's food in the kitchen. Oh, how about a beer? Take my beer."
I slowly handed my beer over to the creature, and he drank it like he knew exactly what he was doing. Later, Zack and I surmised he had been watching humans from afar, so that's how he knew what to do.
Bigfoot let out a big burp, and we both laughed. It seemed like Bigfoot did too, and the mood in the room seemed to be less tense. Bigfoot stepped towards me, and I instinctively jumped back. He seemed to let out some kind of cooing noise as if he was trying to make me feel at ease. I didn't know what else to do so I just went with it and reached out to take his hand.
"Babe, be careful," Zack whispered.
"I think he's trying to be nice," I said as I looked deep into his eyes. "Aren't you, big guy?"
Bigfoot took his hand back and stroked my hair. He looked like he was smiling, so I started to feel at ease. I couldn't believe what we were experiencing. I mean so many people had been trying to prove this creature even existed, and now he was standing right here in front of us.
He touched my cheek and then let his hand fall down my body to my breasts. He started playing with my breasts and laughing as they bounced when he let them go. I was a little shocked at what he was doing, but I couldn't help but laugh along with him.