Bigfoot Takes A Couple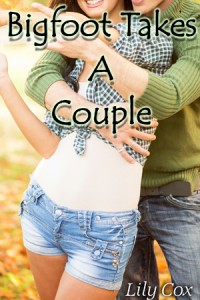 "I guess… I'll walk far enough to get a signal so I can make the call. It was my fault, so I should be the one who makes the effort to get us help." I let out a big sigh and reached in the back for my sweater.
"I'm not going to send you out in the dark to walk a mountain road. I'll go, and you can stay with the car," Rob offered.
"I appreciate that Rob, especially after I got us into this mess, but I feel like I should be the one to go. Besides, I would feel really nervous here without you. Maybe we could both go." I smiled and put my hand around his neck.
"Sure, it's a nice night for a walk I guess." Rob looked like he was calming down, and I think my smile was having its usual effect on him.
We got our jackets and headed out for a brisk walk. Fortunately, we were close to the top of a grade, so we only had to walk uphill for a short while. We kept checking our signal every few steps, but it just wasn't our luck. At least, I saw some lights down in the valley from our viewpoint up high, so I knew we weren't too far away from some life.
Unfortunately, there was no way to know exactly how far that was going to be.
"Hold on, did you see that?" I thought I saw something at the edge of the road up ahead.
"See what?"
"I'm not exactly sure, but I thought I saw something move up there near the edge of the woods," I whispered because it felt like we were being watched.
"Are you sure? It was probably just an animal. Hopefully, it's not a big one." Rob squeezed my hand as we continued to walk.
"Shit, I didn't even think about that. What if it's a bear, and we are walking right up to it." I stopped in my tracks.
"I'm sure it's OK. We have to keep going, and I heard if you make a lot of noise they will just run away." Rob pulled me to keep us going.
"OK, as long as he attacks you first." I giggled and made sure I said that out loud so it might scare off any critters that were lurking.
We continued walking for another 5 minutes, but then I thought I heard something behind us. I stopped again and pulled on Rob's arm.
"I know I heard something then. It's right behind us. I don't think we are supposed to run because it will just think we're prey. After that, I don't know what else we should do." I squeezed Rob's arm as my fear was increasing.