Myth Hunters:  Bigfoot
Here's a sample from my recent release Myth Hunters:  Bigfoot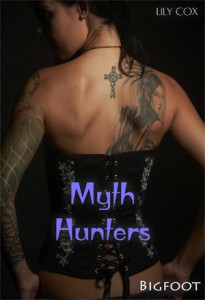 "Well, let's get another story and then see if there's a trend." Jerry pointed to the area.
"Yep, there's a couple that's reported some one-on-one encounters with Bigfoot that we should really check out."
Jack points to an area close to where the boys reported their Bigfoot sighting. "They just happen live near the same lake."
"Great, let's go," Kelly looks at the camera.
The team travels to the couple's house, and they all pile out of the jeep. The couple is waiting outside to greet them, and they have big smiles as they approach.
"Hi, I'm Gary Jenkins and this is my wife Marta." The big burly man reaches out with his hand to greet the team.
"Hi Gary, we heard you've been having some strange encounters with Bigfoot." Jack looked up at Gary, who was a good foot taller than him.
"Yes, it's been quite odd and a little stressful for us. I'm not sure what to do." Gary looked down and rubbed his forehead.
"What seems to be the problem, Gary?" Jerry showed concern for the couple.
"Well, it's starting to take a toll on our marriage. I've tried to be patient, but I don't think I can take much more."
"We haven't really heard of Bigfoot causing marital problems before. Why do you suppose he's come between you and Marta?" Kelly looked confused.
"Well, I don't like to admit this, but Marta is having an affair with Bigfoot." Gary looked at Marta with disappointment.
"He's the best lover I've ever had," Marta says in a thick German accent and then giggles.
"See what I mean. How am I supposed to live with that." Gary shakes his head.
"Um, well, so you say that you've been having an affair with Bigfoot?" Jack looks stunned and confused.
"Yes, we were out fishing in the lake and Bigfoot came upon us. At first we were really scared because we thought he might attack, but then he started coming on to Marta." Gary shook his head again.
"How did you know he was coming on to Marta?" Kelly seemed perplexed.
"Well, he was playing with his member." Gary made the motion of jacking off.
Everyone burst out laughing and turned away from what Gary was doing. The camera crew stopped shooting and the group came together to discuss if this was something they could put on the show.
"Guys, this would make great TV, but this guy is clearly insane." Kelly twirled her finger around her temple.
"I think we should keep going. He has the right to tell his story just as much as anyone else. Besides both of them believe it." Jerry shrugged his shoulders.
"Alright, let's keep going." Jack turned back to the couple. "Gary, do you mind if we do a night investigation on your property?"
"Sure, I hope you drive the critter out of here." Gary threw up his hands.
"Maybe Marta should come with us, in case Bigfoot is more likely to show himself with her around," Kelly suggested.
"I'd be happy to come with you." Marta giggled.
"Great, we'll get set up then." Jack signaled the crew.