Here is an excerpt from my recent short story, The Call of the Dryad Goddess.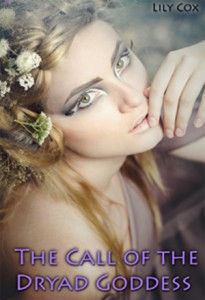 "I'm Sophie. So you were lost in the woods for a long time? Gosh, can I just say, you are so beautiful." She stared at me with wonder, and I realized this was going to be just as my mother said.
"Thank you, Sophie, you are very lovely as well." I walked around her and looked her up and down. "Your body is quite voluptuous and it makes me very happy."
Sophie giggled and blushed as she meet my gaze. She was petite with an ample bosom, and her hips were wide making for excellent childbearing.
"You don't think my ass is too big?" Sophie turned to look at her own ass, and I stood behind her and placed my hands on her cheeks as well.
"Not at all, the roundness of your ass makes you so attractive. I'm sure it's what your boyfriend likes about you the most."
Just then, the young man came back with the water and overheard what I said.
"Wow, look at what you two get up to while I'm gone. And I've told her a thousand times that her ass is what I love the most." The man said as he handed me my water. "By the way, my name is Scott."   Scott's eyes twinkled as he looked upon me. He licked his lips as he looked at my body through the sheer slip that I wore over my naked body. I could tell that he was already getting aroused, and I thought I would be direct with them both.
"Scott, I find you very attractive, and I can see from your growing erection that you like my body as well. I would like to mate with you and your pretty girlfriend. Would you be my lovers tonight?" I slipped off my gown and I stood before them naked.
"Oh my god, where did you come from? I'm up for it. Babe, are you OK if we do this?" Scott turned to Sophie, who was still mesmerized by my naked beauty.
"Yes, of course, she's absolutely lovely." Sophie took my hand, and we walked to their campsite.
Scott began by kissing my neck, and Sophie and I exchanged soft kisses on the mouth. Our lips parted, and our tongues twirled together dancing and darting almost magically. Scott reached from behind and cupped my breasts and pinched my nipples. I let out a little sigh as I felt the twinge of desire increase as he played with them.
Sophie reached in between my legs and started playing with my clit. I had never felt this sensation before, and my mind was overcome with joy. I called out to the sprites and the forest lit up with little sparkling lights. This took Scott and Sophie by surprise, but they were delighted at the spectacle.
Scott removed his clothes, and I took off Sophie's. Scott laid down on the tent floor, and I lowered myself on top of him. I had not been with a human before, and my human body had not lost its virginity. Once I slid his large member inside of me, I let out a cry of pain as it felt like it sliced me open. My mother warned me about this rite of passage, and I took it as the momentary burden that unlocks endless pleasure as she promised.