Here is an excerpt from my recent short story, My Favorite Robot.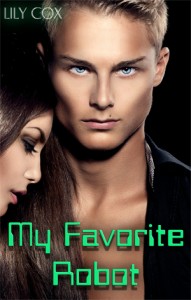 "OK then, I'm game if you are."
"Nice, so you want to right now, cause I got hard just talking about this." Conner had a goofy look on his face.
"Sure, I guess. Let's see if Christian will do it. He just got here, I don't know how this works." I looked for Christian, and he was putting away the cleaning supplies. "Christian?"
"Yes, Amber, can you point me to my attachment case?" Christian stood in front of us with a pleasant look on his face.
"Oh, then you heard what we were talking about. Are you OK with doing that?"
"Yes, Amber, I will do whatever you want. If you will show me where my attachments are, and then pick one out, I will join you and Connor."
"Sure, it's in the bottom drawer." I pointed to a drawer in the kitchen area. I hadn't moved it very far from that original night.
Christian pulled out the case and removed his clothing. I was actually getting really turned on by the whole thing now that Connor was into it. I selected a vibrating apparatus and screwed it on Christian and turned it on. Instantly I felt ready to get off, but I wanted to take it slower for Connor's sake.
We all moved to the bedroom, and Connor and I got undressed. We kissed deeply and touched each other all over. Christian moved in closely, and I wondered what it would be like to kiss him. I tried it out, and it was surprising real. I twirled my tongue around his and then turned back to Connor and did the same. I loved all this attention and body parts to choose from.
I moved my ass to Christian's vibrating cock…