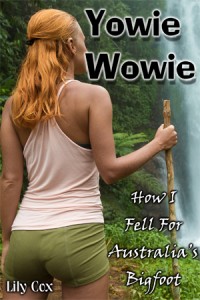 "Are you sure the reason you're offering this is for my safety and not because you want to fuck me again?"
"Would that be so bad?" Joel smirked and had a cute twinkle in his eye.
"Well…" I thought about it for a second and remembered I was going to be away from all civilization for a month and then decided what the hell. "OK, maybe one more time." I giggled as I gave him a little kiss.
"Excellent, alright then, let's get some hammocks set up for sleeping tonight. We don't want to be on the ground with the creepy crawlies."
"Well, I want to get in a bit deeper before we set up for the night. Do you think you could get back on your own if we go in a few miles?" I knew if I challenged Joel he would take me up on it.
"Of course, I'm fine with hiking for an hour or so if you are." Joel flexed his chest a little bit as he put on his own pack.
"Great, let's get moving then." I gave him a little smile and grabbed my pack from him and put it on my back.
We headed off into the bush. It varied quite a bit, sometimes very thick, but then it would open up into nice meadows. It was on the edge of one of these meadows that we decided to finally stop and camp for the night. We hung our hammocks between some trees that were close to each other and then started a fire for the evening. Joel shared some of the food he brought so I wouldn't have to use any of my supplies.
"Thanks for dinner, Joel." I finished off my meal and cleaned up the wrappers. "I really appreciate everything you've done for me."
"No problem, I don't know what it is, something about you just makes me want to take care of you. Maybe it's that cute smile of yours or… maybe it's because you were the best lay I've ever had." Joel started laughing, and he rubbed my back.
"I had a feeling it was something like that."
"I'm just teasing you. I mean, you are the best lay, but I do like you, and I wouldn't be here if I didn't want to." Joel leaned over and gave me a kiss.
"Nice recovery."
I put away my trash and moved over to Joel. I straddled him, and we started to kiss. Our tongues intertwined, and his hands moved inside my shirt and up my back. I felt him undo my bra, and I stopped long enough to remove my shirt. Joel took one of my nipples in his mouth and teased it with his tongue. He massaged and pinched the other nipple, and my girly bits were all a tingle. I found myself rocking back and forth on his lap and realized I needed more.