Life On Futa Row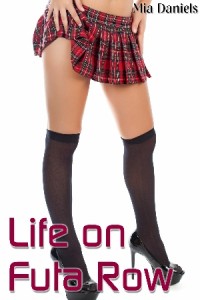 Here's the latest from my short story Life On Futa Row:
The night started off pretty boring at the sorority house. We graciously sipped our drinks while the girls told us the history and described the process of pledging. They said they were like no other sorority, and we should be prepared for anything if we decide to proceed. I should have paid more attention to this particular statement, but it just went in one ear and out the other.
After this initial speech, the real drinking started and we were pretty tipsy in no time. We started playing games and chatting up other girls. It was actually a lot of fun, and I was really happy that Carrie had convinced me to come along.
I noticed some of the girls had left, and I realized it was getting a bit late. I wasn't sure if we should be excusing ourselves from the party as well, but it seemed like Carrie was still having a lot of fun. That's when I noticed one of the girls locking the front door and then things got a little weird.
"Ladies, it's time," a well-coiffed brunette at the door smiled as she commanded the room. She turned down the lights and then the other sorority girls joined her at her side. "We like to see who stays around till the end of the night because we believe you are the ones who want it more. You are the ones who are willing to give yourselves to the house."
Carrie looked at me with giddy excitement, but I was slightly worried. It felt cultish, but I was willing to hang in there for her sake.
Another girl came from the back of the house with a lot of black robes and started handing them out to the sorority sisters by the door and then Tracy, who I met earlier, came to us with white robes. Tracy seemed to have a devilish smile as she handed us our robe and whispered under her breath, "Just follow Sandra's instructions and you'll do great."
This eased my concern, and I assumed this was just a little show for us newbies. Sandra directed another sister to hand out candles and soon we all had them lit and followed her into the basement of the large house. It felt very ceremonial and spooky, but I couldn't help but giggle a little as well.
Once we were in the basement, we got a full view of everything the girls had planned for us. They had really decked out the place with crazy drawings on the basement floor and something that looked like an altar. If I didn't know any better, I would say they were practicing witchcraft or were devil worshipers.
"OK, ladies, please form a circle around here. So, we didn't tell you everything about the history of our sorority at the beginning of the night because we wanted to weed out the amateurs. One thing that makes our sorority different from all the rest is we get everything we want. And the way we guarantee this is a special little ceremony we perform each year.
As Sandra spoke, another one of the sisters walked into the center of the circle with a large copper bowl and a knife. I felt a chill move across my body, and suddenly I was very nervous.
"Now, I'm sure you're all getting a little worried by what you see, but this doesn't really hurt. We just ask that you take a blood oath to the sorority and pledge your allegiance. Once you do that, you are in and under the protection of all of your sisters for life." Sandra took the knife and held it up for everyone to examine. "If any of you don't want to do this then you need to leave now."
I looked at Carrie, and I could tell she was still interested. I couldn't believe she was buying this bullshit, but lord help me, I wanted to be with her no matter what. I gave her a reassuring smile, and we hung in there for the whole ceremony. In fact, all ten girls decided to stay which I found surprising.
Sandra seemed pleased that no one left and she pointed the knife to the sky and started her prayer, "Goddesses of the Ancient World, we invoke you tonight to imbue them with your essence so that they may extract what they want out of life. Ladies, cut your hand with this knife and allow it to drip into the bowl so we may combine your life force."
Sandra showed us how she wanted us to do it by starting on herself. It wasn't much more than a small cut and the sisters patched us up as soon as we finished. Then Sandra mixed in some kind of alcohol and set the bowl on fire which made for an excellent show. All the girls seemed impressed.
"Now, you will all stay down here tonight and write about what you want in life. Just a few sentences, then put your note in the bowl and use your candle to light it on fire as well. Once you've finished, you can get a sleeping bag and get some rest over there on the cots we set up." Sandra pointed to our lovely accommodations which resembled a post apocalyptic hell.
We all took a sheet of beautiful stationery and their nice pens and sat down to write our wish lists. Of course, I wrote loads of money and to keep my hot bod as long as humanly possible. Then I got a wild hair up my ass because I knew we were burning them and I honestly I didn't believe in any of this mumbo jumbo.
Earlier, Carrie said it would be perfect if I had a dick so I wrote down that I wanted a gigantic cock that could stay hard as long as I wanted and that it would rock Carrie's world. I described how much Carrie would crave it, and I giggled as I jotted down what she would enjoy doing to it. Finally, for good measure, I said the rest of the house would worship my fat cock as well, and everyone would want me to fuck them. I had fun with it, and I was the last one to finish my note.
"Gosh, Nicole, have a lot on your mind?" Carrie had saved a spot for me and was eager to talk once I headed over to the cots.
"Oh, I guess I was just being specific." I giggled as I got in my sleeping bag.
"So, are you freaked out about the ceremony? Do you think it will work?" Carrie had pulled our cots together so we could whisper and the other girls couldn't hear.
"Not really, I think it was mostly for show."
Carrie looked disappointed, and I didn't want to make her sad. I was kind of disappointed that she really believed in all of this hooey.
"But, you never know. I guess we'll have to wait and see how it works out. Might as well stay optimistic." I stroked her arm reassuringly.
"That's what I think too." Carrie smiled again and it made me happy to see her brighten up.
We were pretty exhausted by that point and went to sleep within minutes. That night I had the craziest dream. I was back in the circle, except this time the other girls were not with me. Instead, a beautiful Amazon-like woman was standing before me and examining every inch as if she were inspecting me for battle.
"You have made quite a request, and I am here to determine if you are worthy. You appear sturdy, yet feminine, and I assume you plan to use what you have requested?"
I stood there stunned as she poked and prodded her way around my body. Finally, I awoke from my daze when I realized she was waiting for an answer. "Um, yes, I want to make love to my friend. It's the only thing that's keeping us apart."
"Well then, you shall have your request. Once you awake you will find your new appendage, right where you expect it. Use it wisely, you may find you've gotten more than you bargained for."
It was at this point in the dream that I woke up. The words were still ringing in my ears as I felt something tingling in my panties. I reached down to rearrange as I was getting really uncomfortable and the burning was starting to get intense. I felt a lump and freaked out. I jerked upright and threw the sleeping bag open so I could see what was happening. I pulled my panties down and there before me was a growing cock. It was actually getting larger and larger as I watched and I was afraid it wouldn't stop. I shook Carrie awake in case she needed to take me to the hospital.
"Carrie," I whispered in a forceful way. "Wake up, wake up. You've got to see this."