The Hucow Festival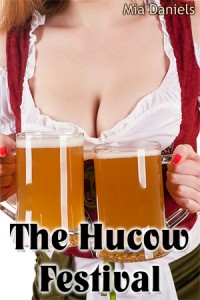 I woke up early on Friday in kind of a funk. I feel guilty for being in a bad mood because I actually have a decent life. I have a good job, and my girl is above average looking. She's pretty good to me, but we've been together for a while now and I think we're in a bit of a rut. The sex is decent, but it's the same every time. I have to admit that I find myself fantasizing about an old friend from high school when I'm with her, which is why I'm up early. I sent her a Facebook connection the other day, and we've been talking back and forth for a few days now.
She used to be so hot in high school, cute, short, perky, and stacked. She had double D cups and a nice round ass that looked so sweet as I pushed my cock inside her. I used to love taking her from behind and reaching around to play with her tits while I slammed my dick in her. Mmm, just thinking about it was giving me a bit of a chubby.
Darby was her name, and she sent me a message about a festival in the little town she was living in now. She was begging me to come see her and rekindle our relationship. I had held off committing to the trip, but today she sent me a recent photo and my eyes popped out of my head. Her double Ds looked like they had tripled in size. She still had her cute figure, but now her tits were gigantic. I knew I had to find a way to see those big melons in person.
By now, I heard my girl stirring in the bed so I just wrote her a quick note that I would make it happen. I asked her to send me her address, and I would see her on Friday evening. My dick was fully erect after seeing those huge tits, and I needed some relief. I climbed in bed with Tracey and cuddled up behind her. I put my dick between her butt cheeks and reached around to massage her breast. She had nice Cs, but I felt a little disappointed after seeing those pictures.
"Stop, I'm still sleeping," Tracey mumbled.
"Aw, come on, baby. I'm so hard. I really need you." I pushed my dick between her legs and started to enter her pussy. It was a little wet so I thought I could make it work.
"Ugh, why do you always want it in the morning?" Tracey moved her legs a little bit, and I was positive she was finally giving in.
"You might as well ask why the sky is blue babe."