My New Job At The Dairy Farm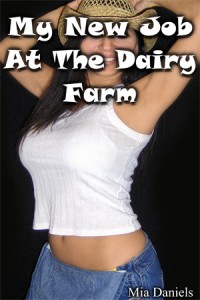 My New Job At The Dairy Farm is available on Amazon.  Here is a small sample from the ebook:
My heart was pounding really fast now, and I was starting to panic. Suddenly, I felt a hand on my ass, and another grab my arm and pull me to a stop against a storefront. In front of me were two guys who looked horny as hell and not ready to take no as an answer. I had no idea what to do so I just froze.
"Please, I just need to get home," I stood there hoping this was just a bad dream.
"We just want to talk for a minute," said one of the guys with a tattoo around his neck.
"You sure are pretty. You got some nice titties. Why do you hide them under all those clothes?" The other guy traced the outside of my breast as he looked me up and down.
Just as I was about to scream, a big, white pickup truck screeched to a stop in front of us. It was the guy from the bar in the cowboy hat, and he was pointing a gun at the losers giving me a hard time.
"Well, hello, little lady, I thought I should check on you since you decided to walk home, and I wanted to see if you needed a ride. I think I arrived just in time." He waved the gun at the men, and they released me and backed away.
"Yes, thank you." I ran around to his passenger side and jumped in his truck. We drove off while he kept the gun out the window trained on the hoodlums.
"You really shouldn't walk home alone so late in the evening. People are out that are up to no good. Now where can I take you," the man said as he put his gun in the glove compartment.
"Actually, I'm not much further, just down this next street. You know, I wouldn't normally walk home, but I just don't want to spend the money right now."
"Well, I hope you come see us about a job down at the farm. I think you'll fit right in, and you can count on us to take care of you. As you can see, we look out for our own." He looked over and smiled at me.
"I can see that, by the way, my name is Jessica. What's yours?"
"Where's my manners, I'm Big John. They call me that because my son works at the farm too, and you'll meet him, he's Little John."
"Is he OK with being called Little?" I giggled a bit, and then realized I might have insulted their family. "Sorry, I've had too much to drink."
"Don't worry about that, everyone at the farm teases him, so you'll fit right in."
We drove for a few more minutes down my street, and I pointed out where I needed to be let out. I thanked Big John for the ride and hopped out of the truck. I stopped before I closed the door to thank him for saving me.
"Thanks, Big John. I don't know what would have happened tonight, and I don't want to imagine it either. I will come by the farm for a job. I can tell you are good people, and I think I need that right now."
"Well, you are welcome Jessica. We'll be looking forward to your visit."
Big John waited for me to make it safely inside and then he drove off into the night. It had been a long time since someone had looked out for me. I immediately felt an affection for the man, like a father figure who knew what was best for me.
The next day I had a hangover, but I still wanted to go to the Dairy Farm and apply for a job. I felt like I owed it to Big John for saving me, and I needed the money after all. I got dressed in jeans and a cute top. I wasn't sure what kind of work I would do on the farm, but I was sure it would be casual attire. I managed to get a neighbor to give me a ride back to the bar so I could pick up my car. It didn't take long after that, and I was pulling into the Hucow Dairy Farm a little after 1 pm. What a strange name I thought, but I guessed it was a family name, so I didn't give it too much thought. I walked into the farmhouse and was greeted by a familiar face.
"Hi, Big John, I thought I'd drop by today for the interview we talked about." I reached out to shake his hand.
"Well, I'll be a monkey's uncle. I wasn't sure you'd come. Glad you made it." Big John took my hand and then pulled me in for a quick pat on the back. "I'm going to hand you off to my wife Beth for the interview. I need to go milk the cows again."
Big John's wife came out from the kitchen with a huge smile and carried a big pitcher of milk. She motioned for me to follow her into the dining room where chocolate chip cookies were sitting on the table.
"Look at you, aren't you so cute. What's your name, honey?" Beth poured a big glass of milk for both of us.
"I'm Jessica, your husband suggested I come for an interview. He helped me out of a bad situation last night, and I thought I would come check out the operation."
"Oh, you were the young lady walking home last night. Yes, he told me about that." She handed me the plate with the cookies. "I'm so glad he was able to get you home safe. Here, have a cookie, they go so well with our milk."
"Oh, thank you, I am kind of hungry." I sunk my teeth into the cookie and it was the best thing I had tasted in a while, that is until I had a sip of the milk. Maybe I was just hungover, but I couldn't get enough of the delicious, surprisingly sweet, cold milk. "Wow, I've never had milk quite like this. It's really good."
"It's our special formula. In fact, it's a trade secret and we'll need you to sign a non-disclosure agreement so we know you won't sell it to our competitors." Beth stood up and pulled out a folder from a drawer in the buffet by the wall.
She handed it to me across the table. "Take a look at these, honey. Be sure to read them before you sign."
"Oh, does that mean I have the job?" I wondered why she hadn't asked me any questions.
"You sure do, if you want it. It pays really well, 25 per hour." Beth topped off my glass of milk.
"Wow, what are my responsibilities?" I couldn't imagine what would pay so well at a Dairy Farm without any qualifications.
"Well, we have a restaurant, so we may need you to serve some guests, but your main duty is to work for the farmhands. They will tell you what they need."
"OK, that sounds great." I quickly glanced over the paperwork and signed my name at the bottom. "When can I start?"
"Well, you are eager, aren't you? I tell you what, I'll get one of the farmhands to give you a tour in a few minutes. Go ahead and have another cookie and finish off your milk. Little John will be up here in a minute." Beth smiled wide and filled up my glass one last time and left the room.
I sat there satisfied and took one more cookie. I couldn't believe my luck at finding this job. I needed the money so bad, and this kind of salary would really help pay down the debt I had run up while I was out of work. I gobbled up my cookie, and before I realized it, I had drunk all of my milk. I don't know what was in their special formula, but I think it made me feel all warm and cozy.
I grew a little anxious waiting for Little John. I wondered if he was cute and I imagined that he was really fit and tan because he worked on a farm all day. I closed my eyes and leaned back in the chair and pictured what he might look like. I had no idea why I was fantasizing about this guy I had never met, perhaps it had been way too long since I had a boyfriend.