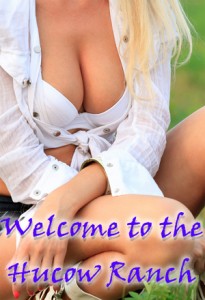 Here's a snippet from Welcome to the Hucow Ranch
I noticed her from across the restaurant as I waited for the server to bring me my champagne. I had recently closed a major deal to take over the troubled mortgage company of my childhood friend Sterling Livingston. He had always been my rival in most things, sports, women, business, but now I had the upper hand, and I was secretly relishing in the victory.
The server finally dropped off my drink, and I looked around him to see where the young lady was headed. She clearly stuck out in such an upscale establishment. She was a gorgeous girl, wearing a tight black miniskirt and a loose tank top that was made out of some kind of shiny material. Her tits were enormous, so large and full. Those jugs looked so heavy, and the straps were under such strain, I thought they might break at any moment.
I felt my pants grow tight. I couldn't help myself around such large breasts, especially if there was just a chance the woman might be lactating. I strained my neck to see if I could see any tell-tale wet spots of dribbled milk on her tank, but nothing was apparent. I looked up and realized that she noticed my gaze, and she shot me a dirty smile. I gave her a wink as she sat down at the bar.
I could tell that she was alone, so I asked the server to send her a drink on my behalf. She took a sip and raised the glass to show she appreciated the gesture. I rubbed my hardening cock as just watching her breasts move up and down as she sat there breathing made me want to take her right there at the bar. Just then, she dropped her napkin on the floor and bent over to pick it up. Her tiny little mini skirt rode up her ass to expose the fact that she wasn't wearing any panties. I could see her completely bare pussy just waiting for me to punish her from behind. She whipped her hair around and winked at me as she saw me eying her backside. Next she adjusted her mini so it just barely covered her butt up, and I gave her a frown to show my disappointment.
I noticed that she wrote something down and gave it to the server who promptly delivered it to me. The note said for me to meet her in the men's washroom, and I realized she had already left.  I was more than eager to oblige and quickly made my way to the hallway in the back.  Fortunately for us, it was in the middle of the day in a downtown hotel.  There weren't any people around since everyone was already at work.  I entered the bathroom and there she was, bent over the couch in the entry with her skirt hiked up over her ass.