Here is an excerpt from my recent short story, My Bigfoot Threesome.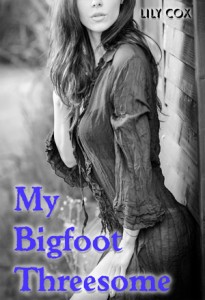 We were getting really close now, and his movements and grunts were increasing. The moonlight was bright tonight, and we could really see his body now. He kept moving his hand, and I finally saw what was really going on. Now, I knew my original thought was correct.
"Um, Rachel, I think I was right."
"What do you mean?"
"Look at that hard on he's got. He's been jacking off the whole time we've been walking to the cabin. That's what all the grunting has been about."
"What!" Rachel zeroed in on his hard cock and saw Bigfoot grabbing himself and grunting. "Oh my god, what the hell."
"I know, what the hell, Bigfoot is totally hung." I laughed for the first time since all of this began.
"Holy shit Ash, will you be serious."
"I am, that is one big dick." I had to joke at this point. I was letting off steam because it felt like we might be out of danger. I didn't care if Bigfoot choked his little monkey, just as long as he didn't eat us.
"It is really huge, isn't it." Rachel finally caught the giggles.
Our bodies started to relax, and we picked up the pace towards the cabin. Suddenly, Bigfoot rushed towards us, and we let out a scream. He was upon us in an instant.
There he stood in front of us on the porch of the cabin. We were frozen in fear, and all we could do was stare up at him. He reached for Rachel and pushed her head towards his cock. Was he really doing what I think he was?
"I think he wants you to suck it," I said out of the corner of my mouth towards Rachel.
"I can't, it's too big." Rachel reached out and took Bigfoot's cock in her hand. I was surprised to see her curious enough to explore so easily.
Bigfoot responded with pleasing rumbles through his chest. You could tell he liked having Rachel's hand on his dick. I looked down at Rachel, and I think she got off on the fact that she turned him on. She actually started licking his dick.
Bigfoot moaned as Rachel ran her tongue up and down his cock. She took his head into her mouth but couldn't get much further down the thick, fat shaft. The beast reached for me and rubbed my ample tits. I couldn't believe I was getting felt up by Sasquatch himself.
He moved his hand down to my legs and reached inside. I have to admit I was already wet after watching Rachel give him head. He slid his huge fingers inside my pussy and started pumping away. I gasped as I rode his fat fingers and watched my friend work on his cock. My mind swirled with everything that was happening in front of me.
Bigfoot laid down on the porch and moved Rachel over his lap. She looked at me with disbelief.
"I don't know if I can do this." Rachel stood over his torso and tried to imagine putting his humongous cock inside her.