Here is an excerpt from my recent short story, Haunted by Desire:  The Complete Series.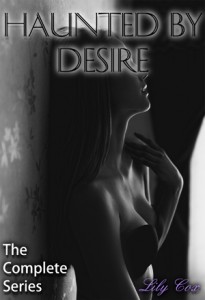 "What the fuck!" I jerked up to see who is molesting me. It's Austin, and he's completely naked.
"Shh, it's me." He moves his hand back to my breast, and I shoved it down again.
"Yes, I can see who you are. What the fuck are you doing in here?"
"No, it's me, Ethan."
"Uh, wha…, Ethan?" I looked into Austin's eyes for any sign of recognition.
"Yes, my love. I told you, I would find a way."
"Oh my god, Ethan, what have you done!" I was still in a drug haze, even though my adrenaline was running wild. I thought I was hallucinating or going insane. I had no idea what was going on.
"I want you. I'd do anything to be with you again."
"You can't do this. You can't, you can't just… possess someone. Can you?" I realized I had no idea what I was talking about. I wasn't exactly an expert in this and didn't know if I should be lecturing a ghost.
"I can and Austin will not remember anything. It's totally harmless, and we can be together." Austin leaned down and gave me a kiss.
Our tongues twirled, and I melted as it was the first time I had felt close to someone in over a year. My mind pictured Ethan, and I let myself imagine him as his hands moved back to my breast. I was so conflicted and confused. The drugs that I took didn't help clear things up either, as they allowed my body to easily relax again.
I tried to protest once more when Austin moved to suck on my nipples, but nothing came out of my mouth. He teased and tickled my nipple with his tongue, and I arched my back towards him in enjoyment. His hand slide in between my legs and his fingers dove inside my wet pussy. I let out a gasp as I felt more pleasure than I had in such a long time. His thumb flicked my clit while he pumped his fingers in and out of me, and within seconds I was already writhing in ecstasy. I moaned as I orgasmed, and a few tears came out as I thought of Ethan.
"I don't think we should be doing this." I looked at Austin but tried to see Ethan through his eyes.
"It's OK Olivia, I love you. It's me, just lay back and relax. Your friend will never know."