Futa School For Women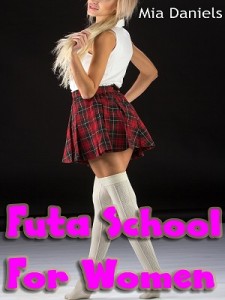 Here's an excerpt from my latest short story Futa School For Women:
Finally, the evening had come, and I was so excited to go out with Missy and my new friends. Missy showed me the way to sneak around Dean Worthington's room and we saw the other girls waiting for us at the back entrance. The weather was warm, so we were all in our sheer nightgowns. It was so humid that you couldn't wear much in the south, or you would start sweating instantly.
Missy and the girls led us down to a lake that looked like it came right out of a deep south storybook. There was a big tree with a rope that many of the girls said we would use to swing and jump into the water, but first we would get our drink on. Delilah, one of the older girls, moved a few rocks between two trees to uncover bottles of liquor. She passed them around and we started drinking.
The girls were so much fun as they started joking around and telling tales. I pretty much just sat back and listened to them recount their adventures. We were really getting quite tipsy, and I guess it was time to bring me into the fold because Missy decided to finally reveal their secret.
"So, Emma, what do you think about what you've seen so far?" Missy walked over to me and sat beside me. She put her arm around me and passed me the cheap bourbon we had been drinking.
"You girls sound like so much fun. I'm glad I'm here. I was counting on getting a little action now that I'm finally out of high school, but if I had to be with any group of girls, I'm glad I'm with all of you."
They all burst out laughing, which wasn't the reaction I expected. Missy hugged me and gave me a kiss on the cheek.
"Sorry, Emma, we aren't laughing at you. We've all been there before, and we know exactly what you mean. What if I told you there was still a way to get some action, even without men."
"Um, what do you mean? If you're talking about practice kisses, I'm way ahead of you."
The girls started giggling, and I noticed that they were all watching us. I realized that they all had something much more involved and intriguing in mind.
"Maybe we should just show her. Let's go skinny dipping," Delilah suggested as she stood up.
I really had no idea what I was about to see, and my eyes nearly popped out of my head when I noticed everyone had a little something extra. I should correct myself, it wasn't a little something, it was gigantic. There, in between everyone's legs were huge cocks dangling as proud as could be. I was so shocked that I let out a huge gasp and pushed back a few feet away from Missy.
"Don't be afraid, Emma. It's exactly what you think it is. Those are big, beautiful dicks you see, and they are perfectly natural."
"How is that nat… natural?" I was still so stunned I could barely talk.
"We prayed so hard, and our prayers were answered. Here, you can feel mine." Missy ran her hand up her legs as she pulled her gown up. Sure enough, she had a gigantic head peeking out all of the sudden.
"Oh my god, it's so lifelike." I couldn't take my eyes off of it. I had never seen one in real life.
"It should be, it's completely real. Come on, touch it." Missy took my hand and looked into my eyes to see if it was OK. I had to admit I was so curious.
"I… I just want to touch it for a second." I lightly touched the tip of her soft head.
"Take as long as you want. Explore, might as well get to know it and see how it feels." Missy exposed all of herself to me and leaned back for me to play.
"This is so fascinating. I can't believe this is possible." I started out apprehensive at first but then went further by stroking it harder. I didn't even notice at first that I was giving Missy a great deal of pleasure until I heard her moan.
"Oh, I didn't mean to… I'm sorry."
"Don't be sorry, that felt really good." Missy leaned forward and started kissing me. I was shocked at her directness but surprisingly turned on. I didn't realize how much I had also enjoyed stroking Missy as well. What was I discovering about myself? This was all so confusing. I pushed back for a second.
"Missy, I don't know, this is all so fast. I'm having a good time, but isn't this against what we're taught?" I looked down at the other girls by the lake where they had been skinny dipping, and they were already engaged in a full on orgy. My eyes were full of twosomes, threesomes, and foursomes all fucking each other. What had I gotten myself into?