Taken By The Hucow Inspectors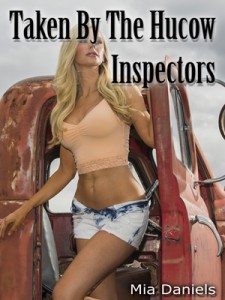 "You're going to love this job." Dean motioned for Clay to get in the white truck they were approaching. I've never heard of someone outside the industry picking up an inspector's position. How did you find out about it?"
"Actually, my father was in the industry. I left home when I was 18 because we didn't see eye to eye on things, but now I'm back. I just needed to grow up I guess." Clay put on his ball cap which he had stuffed in his back pocket when they were inside.
"Oh, I've heard that happens a lot between father and sons, but I bet you came back because you remembered all the perks of the job, didn't you?" Dean let out a hearty laugh and hopped in the driver's side.
"Yeah, I have to admit, I remember Dad always would come home exhausted with a smile on his face." Clay laughed to himself as he closed the passenger side door.
"Well, you've joined on at an interesting time. There seems to be something going on between the two farms on the west side," Dean explained as he backed out of the head office.
"Um, what do you mean?"
"Well, both of the farms are accusing each other of corporate espionage. They say their secret formulas have been stolen by some of the hucows that have defected to other farms. It's getting really tense, and everyone is suspicious. Just keep that in mind when you're dealing with the owners, OK." Dean looked over at Clay to ensure he understood.
"Sure, I'll tread lightly around the issue. What do you think about it, any truth to the rumors?"
"Oh, probably." Dean turned on the radio and adjusted the volume. "It happens every so often. The hucows get restless working for the same farms. They're easy marks to get poached by bulls from the competitors."
The guys didn't think anything more about it and continued to do their rounds for the day. They pulled up to Blue Moon Dairy and noticed a big commotion out front.
"I don't deserve this kind of disrespect! I'm a top producer around here, and I should be treated better." A very large breasted woman was yelling at two men as she walked backwards towards their truck.
Dean slowed down to a quick stop so he wouldn't hit her. She flinched once she realized that someone was pulling in and swung around to face them with a shocked look.
"Hey, watch where you're going, OK?" The woman seemed more distressed than angry.
Dean and Clay jumped out of the truck eager to help out. She was clearly shaken and overheated from the fight. Her hair was damp and disheveled, and her white blouse was sticking to her ample tits as she started pleading for the guys to help her.
"Hey, are you the inspectors? You really should shut this place down. They are so mean to us here. Can I… Can I get a ride with you?"
Clay couldn't keep his eyes off her nipples while she was talking. They were so huge and were poking through the almost sheer top practically begging him to nuzzle them. He felt his pants growing tighter and realized he needed to get his mind back in the game.
"It's OK, Miss. What's going on here? You can tell us," Clay put his arm around the woman to comfort her.
"You can't believe that dumb bitch!" One of the farm hands yelled out.
"Sir, you need to stay back while my partner takes her statement," Dean held back the young man at arm's length.
"Don't worry about them, Miss… I don't believe I caught your name," Clay rubbed her arm to give her comfort and at the same time looked down her gaping neckline.
"Oh, I'm Kirsten. Actually, I'm a little nervous telling you what happened in front of them. Can we go somewhere more private? Maybe we could go to my room so I could collect some of my things before we leave?" Kirsten looked into Clay's eyes and gave him a little half-smile.
He knew she was playing on his sympathy, but he couldn't help himself. He was fighting a full blown hard on since he saw her so she could have asked for his entire life savings, and he would have handed it right over.
"Sure, I'll escort you to your room, and you can fill me in on the details." Clay turned Kirsten around as he held her tight around the waist. "Dean, I'll be back in a minute. Can you handle the inspection?"
"Yep, you get the details on the complaint and we'll meet up soon." Dean walked off with the irritated farm hands who were swearing under their breath the entire way back to the barn.
"So, Kirsten, tell me what's been happening here at Blue Moon," Clay snuck another peek down her neckline and imagined his throbbing cock plunging up between those beautiful mounds.
"OMG, you won't believe what they do to us. It's not a dairy. It's a sweatshop," Kirsten opened up her door in a huff. "Come on in, my roommate should be in the stalls now. We can talk privately."
"Come on in, my roommate should be in the stalls now. We can talk privately."
"So are you not allowed the mandated breaks from milking?" Clay looked around Kirsten's room and noticed it was pretty messy. It reminded him of his sister's room when they were growing up, and she was the pampered brat of the house.
"Well, they give us a couple of breaks, but that's it. But they just don't… they don't provide anything to keep us excited, know what I mean?" Kirsten turned around to face Clay with a coy look and giggled a little bit. "We produce so much more milk when we are feeling good. Instead, they like to keep us restrained, so we don't stray off the floor."
"Restrained? What do you mean, like tied up?" Clay cocked his head to the side and felt a little intrigued.
"You know, like this. Here, use this scarf and tie my hands behind me. I'll show you how I have to stand all day long."
Kirsten handed Clay a scarf that was hanging on the bedpost. She put her hands behind her and turned around so he could bind them.
"Um, how tight?" Clay clumsily tied the scarf.
"Tighter. They tie it so tight, it feels like it cuts off my circulation."
"I don't want to hurt you," Clay said as he tightened the knot.
"Don't worry, I can take just about anything now." Kirsten giggled and then bent over. The tiny miniskirt that she was wearing was just barely showing the bottom of her ripe apple shaped ass cheeks.